April 15th, 2013 // 5:26 pm @ jmpickett
More FDA, cGMP Compliance News
Audit Your Lab Like an Expert FDA Auditor: A Roadmap to Lab Compliance
April 15, 2013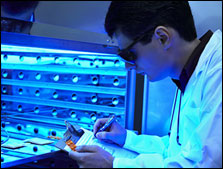 Stability testing of drug products is required by 21 CFR 211.166Â  of the cGMP guidelines. Stability is how much the product remains in established parameters at the established conditions and needed shelf life. Problems with stability can include temperature, photostability, humidity, shaking, chemical interactions and also irradiation. Stability tests are run on API, packaging, intermediates, excipients, bulk production, and sterilized and finished products.
As most of us know, behind every date of expiration for a drug is supposed to be ample stability testing. Behind that testing should be what we will call a stabilitarian – a person who coordinates the functions that determine the stability of a drug.
According to FDA leaders, stability is a very common source of 483 observations and warning letters. We have seen that about 11% of warning letters deal with problems in stability testing. Some testing is not good enough to assess the essential stability features of drugs, or to determine the right storage conditions and date of expiration. In some other warning letters, stability testing could not determine the expiration date on labeling for drug products. Some warning letters noted the company had no stability testing – period.
It is important for drug companies to offer plenty of support to the stabilitarian! A recent survey in March 2013 found that there are more warning letter observations for stability testing. This was noted in three warning letters in 2011, and in nine letters in 2012.
FDA also recently stated that generic drug makers that are filing an ANDA as well as drug master files should give six months of data for stability testing. This should include both long term and accelerated conditions, and data from at least three pilot scale batches or two pilot batches and 1 small scale batch. This move to six full months of stability data doubled what was asked for before.
Not every stabilitarian at every drug company needs specific support. Many companies staff stability testing very well and see it as a vital process step in the development of drugs. Other companies will often decentralize the job. These firms think it can be done right by a strong analyst working on a drug project team, and in some cases it can work.
In these uncertain economic times in pharma, it is becoming more common for firms to decentralize the stability role. You just need to be careful as you do so!
Upcoming Expertbriefings.com Webinars