March 18th, 2013 // 12:30 am @ jmpickett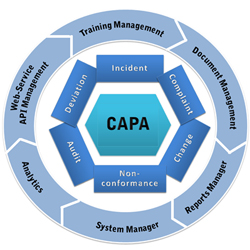 Available Upon Request – Certificate of Attendance for All Attendees to Fulfill Training Requirements
FDA hands out CAPA 483 violations like candy these days; CAPA violations actually were the #1 483 observation for 2010 and 2011, and will probably continue to be so in the future. This is because CAPA is so closely related to so many other FDA requirements, including:
Complaint files 820.198
Nonconforming products 820.90
Acceptance activity820.80
Audits 820.22
Servicing 820.200
MDRs 803
Reports of corrections/recalls 806
This is a unique, 90 minute webinar event that will show you specific steps that you need to implement a bullet proof, closed CAPA system that meets GMP and FDA requirements, and how to prevent an FDA inspection CAPA disaster. This online event will teach you several simple and powerful tools that attendees can use regularly to pinpoint and resolve root causes – not merely just treat symptoms.
Why It Is Important To Attend:
One of the most important areas audited during an FDA inspection is corrective and preventative actions, or CAPA. A company with a strong CAPA system provides FDA with good assurance that the company will remain in compliance without the agency constantly having to knock and the door.
A closed-loop CAPA system requires a failure investigation that is both repeatable and systematic, and also requires effective root cause analysis, which is intended to define, locate and resolve all root causes of compliance problems.
Developing a system with full capture investigation, verification and validation, monitoring, strong change control methodology, and strong root cause analysis is essential to have a true closed loop CAPA program – one that fully meets or exceeds FDA's GMP requirements.
This upcoming webinar will provide you with very simple but effective tools, which, if you use them systematically and regularly, will help to resolve the critical underlying problems and close out your CAPA documents quickly.
Who Should Attend:
This new webinar is important for all FDA-regulated firms that are in need of a powerful, repeatable system and powerful, proven tools to develop a sure-fire closed loop CAPA system, including strong failure investigation, root cause analysis and marking permanent fixes. This event is suitable for device, diagnostic, pharmaceutical and biologics companies.
Topics to be covered in this popular CAPA webinar:
FDA's expectations of your company;
What comprises a real 'closed loop CAPA system;
Sample failure investigation template that you can adapt for your purposes;
Seven sure-fire tools for effective root cause analysis;
Details on investigations, including root and probable cause;
CAPA impact;
Determining and monitoring effectiveness
Order Now!
About the Instructor:
John Lincoln is Principal of J. E. Lincoln and Associates LLC, a consulting company. He has over 30 years experience in U.S. FDA-regulated industries, 16 of which have been as a full time, practicing consultant. John has worked with companies from start-up o Fortune 100, in the U.S., Mexico, Canada, France, Germany, Sweden, China and Taiwan.
He specializes in quality assurance, regulatory affairs, QMS problem remediation and FDA responses, new / changed product 510(k)s, process / product / equipment including QMS and software validations, ISO 14971 product risk management files / reports, Design Control / Design History Files, Technical Files. He's held positions in Manufacturing Engineering, QA, QAE, Regulatory Affairs, to the level of Director and VP (R&D). In addition, John has prior experience in military, government, electronics, and aerospace. He has published numerous articles in peer reviewed journals, and conducted workshops and webinars worldwide. He is a graduate of UCLA.
Order Now!