May 13th, 2014 // 5:10 pm @ jmpickett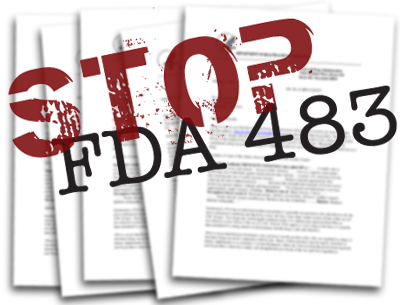 Available Upon Request – Certificate of Attendance for All Attendees to Fulfill Training Requirements

From the Webinar – Move to Kansas?

Let's just put it this way: There are FDA District Offices that make a major hobby out of writing warning letters (LA- we're looking at you), and other offices that send out a warning letter about once every presidential term (hello Kansas!).
The $50,000 Compliance Mistake:Â 
You'll learn about this in the Webinar below, but here's a hint – You have 15 days to respond to a 483, or else! Miss the deadline, and your FDA 483 response is for naught! It sounds obvious, but this huge costly mistake trips up pharma companies all the time. Sign up for this great webinar for much more fascinating compliance information.

Free CD and download recording of Webinar included!
What You Will Learn in This cGMP FDA Inspection Webinar
FDA is more vigilant and aggressive than ever before with its 483 and warning letter enforcement procedures. In the words of Commissioner Margaret Hamburg, FDA is quick, visible and vigilant.
Now, in our unique 90-minute webinar, you can learn the detailed trends of 483s and warning letters for 2014. Our speaker, Dennis Moore, Managing Partner, AUK Technical Services, is a 28 year veteran FDA investigator.
Moore recently had unlimited and highly unusual access to FDA 483 and warning letter trend data from 2010 and 2011. He has assembled a presentation that reveals a level of detail of FDA trend data that you cannot find anywhere else.
For example, Moore has rare information on which FDA District Offices are the easiest and most difficult to deal with, and which offices issue the most and fewest warning letters.
Also, he will tell you one BIG mistake he sees clients make in their 483 responses – one that can easily cost you $50,000 in wasted consultant costs! (hint – 15 days).
Learn about coming 806 enforcement as FDA begins to force more class II recalls.
What Else You Will Learn
Top warning letter trends for 2012, such as more 806 enforcement
The Top 10 QS 483 Observations for 2010 and 2011
Most common quality system failures for drugs for 2010
Top drug and device citations in 483s for 2010
Top drug and device warning letter citations for 2010
Total 2010 BIMO inspections for CDER, CBER, CDRH, and CVM
Details on clinical investigator, sponsor/monitor and IRB audits for 2010
Most common sponsor deficiencies for 2010
The rising trend of 'cease to market' letters, one of which hit a NY pharma company in 2011
The total number of 483s issued in 2010 and 2011 – an all time high
Total CAPA 483 observations in 2010
How long to receive a warning letter, based upon which offices issues it
483 inspection targets for drugs and devices for 2010, 2011, and 2012
Total warning letters issued by drug and device category in 2010
Which district offices write the most warning letters
How long to receive a warning letter, based upon issuing office
Warning letters issued by QS system for 2010
483s broken down by QS subsystem for 2010
Warning letters by CFR section
Top device 483 observations for 2010
Details on process validation observations for 2010
Design control 483 observations by category for 2010
It is very unusual to see this amount of detail in FDA data, especially data that is this recent. We have never seen it covered anywhere else. You will learn detailed, insider information on how FDA is thinking on 483s and warning letters. You can learn all kinds of details that can be a huge help to your firm when the next inspection rolls around.
What You Get Free
Certificate of attendance upon request for all attendees – suitable for continuing education credits
Powerpoint Slides to Print Out and Share
CD Recording and Download Recording of the Presentation – Share With Colleagues!
Free Report #1 -How to Meet Compliance and Records Requirements of the US Food and Drug Administration, by John Avellanet, President, Cerulean Associates LLC
Free Report #2 – Are 'Land Mines' Hiding in Your Supplier Records?, by John Avellanet, President, Cerulean Associates LLC
Free Report #3 -Rapid Deployment Tips to Prepare for an FDA Inspection Quickly, John Avellanet, President, Cerulean Associates LLC
About Your Speaker
Dennis M. Moore is currently Chief Technical Expert and Managing Partner of Auk Technical Services LTD, Beverly Hills, CA. Mr. Moore has 28 years of experience in medical device design, software design validation systems and evaluations, manufacturing software validation including ERP systems and FDA Predicate rules and the 21 CFR Part 11 rules as they apply to device firm's quality systems. Mr. Moore also has experience training drug and device firms in all aspects of device and pharmaceutical manufacturing and 21 CFR 210,211 quality systems. Mr. Moore has extensive experience helping firms achieve compliance to FDA regulation and International Standards regulations. Recent achievements include CE marking a medical device, helping create a Combination Product Quality System; co-authoring a Technical File submission, and achieving ISO 13485:2003 and ISO 9001:2008 certification for a medical device manufacturer.
Additionally, Mr. Moore has extensive experience as a Level II FDA Investigator, California Medical Device and Drug Team Senior Investigator, Sworn Government-POST Certified Criminal Investigator, Lead Trainer, Compliance Officer and company Chief Technical Expert and CEO.
Mr. Moore has given numerous web seminars on GMP issues; has traveled the world putting out FDA compliance related fires and authored many documents on quality system inspection, FDA/CA narrative report compilation, drug quality systems and software auditing techniques.
Mr. Moore is a member of RAPS, AAMI and is a former official with the State of California Medical Device Team. Mr. Moore also has RAB certification to the ISO 13485:2003 standard. Mr. Moore holds a BA degree in Zoology, with Graduate work in Toxicology and a Sworn POST certified Government Criminal Investigator peace officer badge.