March 20th, 2013 // 4:29 pm @ jmpickett
March 24, 2013
Essential FDA Compliance Tips for Sr. Management
When FDA arrives at your manufacturing plant, you might feel a twinge of panic. Or maybe you regret that you did not have time to solve some of the problems the FDAers may reveal. But, know that FDA inspection panic and regret is not something that has to be. If you get ready in advance and you use the correct tools, you can have a positive frame of mind when the inspector arrives.
The bottom line during any FDA drug inspection is that you need to show that your facility is in a state of control. You can do this by having strong quality systems in place. You know FDA expects these systems to be there and properly monitored. However, remember that no matter how good your quality system is, if you cannot show it clearly to the agency, FDA is not going to 'get it.' If you can't make it clear to FDA that your plant is under control, then to FDA, it's not under control.
And this is where process mapping and gap analysis come into play. These processes help you show FDA that your firm is fully in compliance. It also shows that your SOPs are correct and that your employees understand and follow them.
About Process Mapping
Your processes have to be in a state of control. Sh0wing that a process is in a state of control starts with a definition of what exactly is entailed in said process. All drug facilities have many SOPs for this. But FDA is going to want to see that your SOPs are not just sitting in a file cabinet. They want to see your SOPs in action. Process maps are how you can do that. A process map is a visible representation of your SOPs, no matter which quality system is being addressed. A process map is a photograph of how any one of your process is being maintained in a state of control.
About Resources
The first thing you need to do in process mapping is to assemble the correct resources. This means that you need to have a project manager and a facilitator. This might be the manager or it could be another member of the staff who works with different areas to assemble the process maps.
If you have a facility with many systems and processes, you may find that it is too much work for a single person to manage it all successfully. This means you will need to have good administrative assistance for your process mapping. Visio, Microsoft Word, Excel and SmartDraw can be used to create effective maps and flowcharts.
Your company should not do process maps in a vacuum. The facilitator needs to work with everyone around the plant. Each team is defined by the system involved. If the mapping process is related to one area of a single department, intradepartmental personnel is sufficient. But if the process relates to materials that is spread over many departments, you will need to put together a cross functional team. You also will need to identify SMEs, such as scientists and quality managers, which will accompany any of your process maps.
Process Map Training
There are many consultants and outside organizations that can provide you with good process map training. Any training should have a facilitation format that keeps the process of learning in a fully interactive format. Group techniques and brain storming are important to both learn process mapping and to implement it.
You also can do your own training inside the company. Your training show include good ways for employees to learn the meaning of many of the different flow chart symbols. They also need to grasp how the process in question works, and how the SOP and the map relate to one another. And, how to use maps to conduct a gap analysis.
Essential FDA Compliance Tips for Sr. Management
A strong facilitator is going to talk about how to link the map to current SOPs, not just explain the concepts. Every attendee should learn about developing a good process map team, how to create a detailed process map, how to do gap analysis and to figure out whether to revise or write an SOP to deal with a compliance gap. There are NO passive learners during process map training!
Below is an example of an investigation system. The SOPs for this company could be 100 pages long, but this map gives us a good overview of the process. The map below shows what begins the investigation, the process, decision trees, and approval for both quality and effectiveness.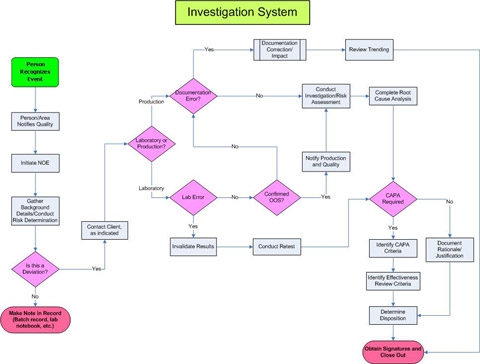 Below is a second example of an effective process map. This type of map can help employees visualize extremely complex procedures and processes. This example shows a highly detailed process map of inputs, outputs and responsibilities that are associated with a notification of event process. Look at how this is more of a drill down view of the higher level mapping of the investigation system in the first example. This process map also features a 'swimming lane' type of process mapping that clarifies actions that contribute to the process, and the expectations of responsibility for inputs. Outcomes and related responsibilities also are shown. This sort of map can be a fine training tool.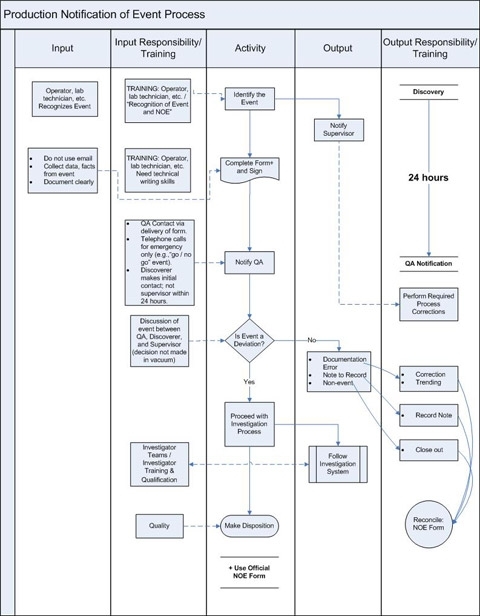 Gap Analysis and How to Prepare for FDA Inspections
Even your best SOP is not going to be followed if employees cannot visualize it. In some situations, employees may use a practice that works better than what is in the SOP. Even worse, they could use a practice that is incorrect. To locate all such potential compliance problems, companies need to create process maps of all processes and practices. These maps should show what is really happening in the plant, and then compare them with regulations and SOPs.
The gap analysis will show any differences between your activities and expectations in your SOPs. Once they are found, the SOPs or the practices may be revised. This will result in a new process map. Another technique that you can use is to create a 'future state' process map that shows the ideal way the plant will function, which can then become your new SOP and current practice.
This very same technique then can be used to do a gap analysis of practices and procedures with FDA regulations, audit responses and guidance documents. This type of regulatory gap analysis can help you to stay a step ahead of FDA.
To begin this process, all management needs to be responsible for developing a comprehensive action plan that puts together mapping, quality system review, review of SOPs and gap analysis. You then compare each of these to regulatory expectations. Your management also should support a strong organizational culture of problem solving and communication. Do not leave any of your departments in a silo or vacuum.
One of our recent Expertbriefings.com Webinar speakers – Dennis Moore, Principal, AUK Technical Services – pointed out that a simple Visio process map of your company's manufacturing processes can be extremely effective in demonstrating your processes to an FDA investigator. Moore noted in the event, titled How to Survive an FDA Inspection, that a high level process map can even be used to guide the inspection. Most investigators will appreciate a high level process map so that they have a bird's eye view of how products are made in your manufacturing facility.
Summary
An FDA regulatory inspection is an activity of verification. It serves to give FDA the assurance that your manufacturing processes are in contorl. The main factor in this is your ability to communicate that you have an effective, in control quality system. This is where you can really use process mapping to your advantage. These maps provide a effective visual way of showing an investigator how a system operates. Internally, process maps will pinpoint your compliance hot spots or gaps before FDA sees them. Even if you have identified problems that are not solved before FDA shows up, the company can show that it has discovered them and has a plan of action to fix them.
As you are putting your action plans into place, make sure you take the same view of the six quality systems that FDA has. Also make sure that you properly manage them, according to the latest FDA regulations and guidances. Companies also should do process maps and identify gaps. The gathering of metrics and analyzing such data also is important.
FDA leadership often states that manufacturers need to have the proper systems in place. They also need to be able to show that those systems are in place and show that they are effective. There are few better ways to show this than with good process mapping.
Upcoming Expertbriefings.com Webinars 2013
Check out our latest FDA drug and device news, too!