May 15th, 2013 // 5:21 pm @ jmpickett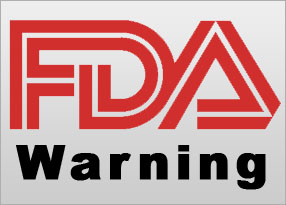 Latest FDA and cGMP Compliance News
FDA has issued some very interesting warning letters in recent days. The first we want to highlight is a warning letter to Pristine Bay LLC. This letter shows FDA's stance on the requirements of private label distributing companies to make sure that all aspects of production are in full compliance with cGMP requirements.
We have seen warning letters in the past where FDA has stressed the need for private label distributors to make sure that cGMPs are closely followed. This is true even if the private label distributors do not actually have any manufacturing role.
This letter we mention above really goes to great lengths to stress the need for private label distributors to follow through on its obligations.
FDA on Website Links
The next letter from FDA shows FDA's stance on website links to articles that have disease claims, which then cause the FDA to consider the items drugs. A warning letter was sent to EuroPharma, and this letter is important reading for pharmaceutical companies.
Supplement firms that have any link to articles or literature from their site should note that FDA sees disease discussions in the articles to mean that the products are drugs.
The warning letter to this supplement firm shows how FDA is looking at websites that make disease claims. Any supplement or pharmaceutical company that links to disease discussion stories should take note.
FDA on Website Claims
Two FDA warning letters that were sent to Synticare Corp and Birkdale Medicinals shows that regulations that cover language of health claims are not just relevant to product labels. Websites also are covered and are easy targets for FDA agents.
FDA shows that website material often is viewed as product labeling. From the FDA point of view, this is promotional material and FDA will look at it just as with any other promotional item. They will look at a website just as they will a pamphlet by a drug company.
Facebook and FDA
We also have seen warning letters from FDA that show that pharma and supplement companies are being watched on Facebook and Twitter.
A warning letter to AMARC Enterprises noted testimonial that was put up by a consumer on the company's Facebook page. The claim stated that the dietary supplement helped him to keep his cancer at bay without further radiation or chemo. This statement was liked by the company on Facebook and is seen as an unauthorized drug claim.
Another warning letter to MDR Fitness stated that typing disease names including 'cancer' and 'diabetes' into the search caused dietary supplements to come up. Those products are determined to be a result that is associated with the two diseases in the minds of the public. This means that the items are being marketed as drugs, which companies cannot do.
If you want to learn about how to avoid FDA warning letters, you should tune into our informative webinar on Warning Letters by the former FDA Chief Counsel, Sheldon Bradshaw.