May 2nd, 2013 // 8:28 pm @ marquee
Updated Daily – Read our latest FDA, cGMP Compliance News
One of the favorite activities for some bloggers is to write about FDA warning letters and what sorts of patterns we can discern by the warning letters that are issued.
If you look at some charts of the most recent warning letter activity, we do see some interesting trends:
If we look at the same data up close for the last few years, we can discern this from 2004-12: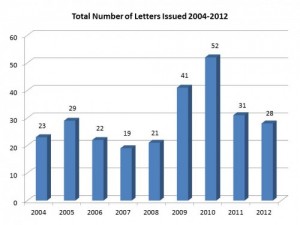 If you break them down into two different sorts of warning letters – serious warning letters in red and NOV letters in blue – what you can see is that the numbers of warning letters has gone down a lot. For 2013, there are only four letters.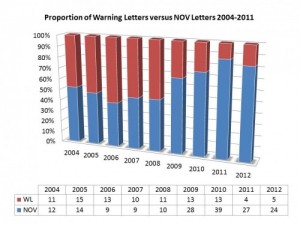 So, what we are seeing overall is that the number of warning letters overall is going down, and the serious types of warning letters are also going down. Great, but why?
Why Are Warning Letters from FDA Decreasing?
Looking into our crystal ball here at Expertbriefings.com HQ, we see a few possibilities:
The industry is getting its act together. That is a possibility, but given how many nasty 483s we still are seeing out there, we aren't totally convinced on this score.
FDA seems to be running scared because of the recent court ruling that negated off-market penalties?
Is FDA too close to industry on the drug side? We've heard rumors about how FDA sometimes gets into bed with some drug companies. It has been known to happen that one company would use its weight with FDA to get the agency to issue 483s and warning letters to a competitor. Maybe FDA is getting too chummy with drug companies?
We are not completely sure, and suspect that it is a combination of these three reasons. What say you?