October 28th, 2011 // 12:44 pm @ jmpickett
Here is a blunder for the history books, or perhaps a case study for a business school. With just one racy advertisement, Pfizer has taken a venerable product that has been widely used by who-knows-how-many millions of people for more than 100 years and damaged its reputation by alienating a huge swath of the consumer-buying public – women, in particular.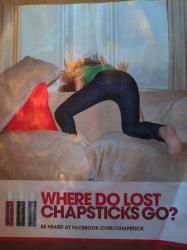 How did they do that? Take a close look at the picture. Until a couple of days ago, this is an ad that Pfizer ran to promote its Chapstick lip balm, an innocuous salve for chapped lips that has a decidedly boring profile compared to, say, Viagra, which is another Pfizer product. Perhaps to spice things up, though, the Pfizer marketing pfolks decided they needed something a little different to grab eyeballs.
And so they gave us this young woman scrambling on a couch trying to find her treasured Chapstick. Presumably, the lip balm landed behind the couch. But who can focus on the crevices of the furniture when the contours of her tush are staring us in the face? This is no accident, but how this reinforces a need for Chapstick is unclear. Instead, the message is this: stop and look at her ass.
Not surprisingly, reaction to the ad was fast and furious. The Chapstick Facebook page was littered with angry comments, some of which Pfizer removed. A few blogs took the company to task and an online petition was formed to pressure the drugmaker, which has a large unit that sells various consumer health items, to end the ad campaign. For example, here is what Redefine Girly wrote…
"Why you paid an advertising agency big dollars to use a woman's 'Ass' to sell me a product I put on my lips seems a bit off. Why you chose to go with the ad that sexualizes a woman and gives off that low budget, basement porny-feeling right at the beginning of the winter season when every parent across America is in need of a good balm to put on her kid's lips seems to me as though you don't understand that women control 86% of consumer spending.
"There isn't much in question about your ad – the odd pose, butt in the air, the skin tight jeans, the sexy blowing hair – it is all a mind-numbingly sophomoric use of implied sex to sell a product. The thing is, for everyone who uses (used) ChapStick, we know that those little tubes go missing all of the time, and there were dozens of other very clever ways for you to depict this. But you didn't. You chose to go with 'Ass,'" wrote Redefine Girly's Melissa Wardy, who know proudly uses Burt's Bees (read here).
In the end, Pfizer capitulated. But not before offering a rather weak excuse for its ad and for removing comments from Facebook. This is what the drugmaker posted on the Chapstick Facebook page: "We see that not everyone likes our new ad, and please know that we certainly didn't mean to offend anyone! Our fans and their voices are at the heart of our new advertising campaign, but we know we don't always get it right. We've removed the image and will share a newer ad with our fans soon!
"We apologize that fans have felt like their posts are being deleted and while we never intend to pull anyone's comments off our wall, we do comply with Facebook guidelines and remove posts that use foul language, have repetitive messaging, those that are considered spam-like (multiple posts from a person within a short period of time) and are menacing to fans and employees."
There is, as they say, a time and a place for everything. But serving up a well-rounded tush in such a way is not smart marketing. Many women are long-standing Chaptstick customers and may not appreciate seeing an ordinary item promoted in a way that appears to degrade women. Chapstick, after all, is generally not the sort of product that lends itself to playful innuendo. In fact, Viagra ads may have been controversial – remember the Viagra devil? – but not so graphically suggestive.
Whether this permanently damages the Chapstick brand remains to be seen. The controversy may have been intense, but was also short lived – Pfizer moved quickly to pull the ad, which may have limited the extent to which the outrage spreads. Yes, the ad will live on the Internet, but the blue jean-clad tush will not be staring at us from official web sites or elsewhere.
Source: Pharmalot