February 13th, 2012 // 1:31 pm @ jmpickett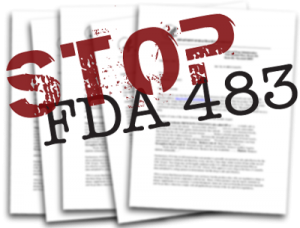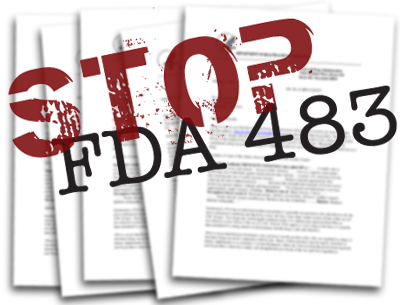 New Webinar With Highly Detailed FDA 483/WL Data!
The Food and Drug Administration's long-awaited guidelines for the sale of lower-cost versions of biotechnology drugs leave open the possibility that some products might not need to be tested in humans.
The proposed rules, issued on Thursday, require studies showing that the generic copies are "highly similar" to the originals, but there are several ways that might be proven.
Because of their complexity, generic copies of biotech drugs – first introduced in the 1980s – are known as "biosimilars."
"We're trying to send the signal that it's not one-size-fits-all. It's product-by-product," Rachel Sherman, director of the FDA's office of medical policy, said during a conference call with reporters.
The worldwide market for copies of biotech medicines will grow to $3.7 billion by 2015, from just $243 million in 2010, as more than 30 branded biologics with sales of $51 billion lose patent exclusivity, according to market analysis firm Datamonitor.
The FDA rules would set "an abbreviated pathway" to approval that would consider factors including a product's complexity, formulation and stability, the agency said.
The proposal "reads largely as we expected, although a few points read as slightly more friendly to the generics industry," ISI Group analyst Mark Schoenebaum said in a note to clients.
The FDA said it would decide on the "extent and scope of animal and clinical studies" needed for approval once it has considered other analytical data. The agency said it has yet to receive an application for a biosimilar drug, but nine applications have been filed for clinical trials.
Manufacturers will have the option of asking the FDA to deem their copies "interchangeable" with a brand-name drug, but the `agency said that would require additional clinical studies.
Makers of branded biotech drugs have argued that full-scale human trials need to be conducted before a rival version of an existing biologic drug should be allowed on the market.
Despite such qualms, biotech drug makers including Amgen Inc, Merck & Co and Biogen Idec are working to produce rival versions of biotech drugs made by competitors.
"While the documents provide a roadmap, they are sufficiently vague as to give FDA leeway for case by case assessments of each proposed biosimilar along their respective development paths," said Wells Fargo analyst Brian Abrahams.
The Congressional Budget Office has estimated that the United States could save $25 billion from the use of biosimilars over 10 years.
European regulators have already approved cheaper versions of some biotech drugs.
The FDA said advances in science and manufacturing may facilitate fingerprint-like analysis of therapeutic protein products, which may allow for a more selective approach to any animal or human studies.
Unlike conventional, easy-to-replicate, chemical-based drug compounds, biotech drugs are derived from living organisms, such as proteins, and are often produced using recombinant DNA technologies.
Once a traditional pill loses patent protection, there is a quick regulatory pathway for generic drugmakers to sell much cheaper versions of the branded medicine. Similar U.S. guidelines for biotech drugs have been under negotiation for several years.
Biosimilar drugs are expected to sell at discounts of 25 to 45 percent to branded rivals, compared with generic versions of traditional pills that often sell for one-tenth the price of the branded product.
Under the U.S. healthcare reform law passed in 2010, brand-name biotech drugs – ranging from relatively simple molecules like insulin to complex antibodies used to treat cancer – were granted a 12-year period of market exclusivity, after which generic versions can be sold.
Opposing trade groups – the Biotechnology Industry Organization and the Generic Pharmaceutical Association – said they are reviewing the proposed rules.
The generic drugs group said it was pleased with the FDA's action, which it called "an important step in getting these affordable, lifesaving medicines into the hands of doctors and patients."
The FDA will require that biosimilar manufacturers provide a post-marketing safety monitoring program, which in some cases may include long-term clinical studies.
The agency is accepting public comment on the draft guidance documents for the next 60 days.
Read more: http://www.foxnews.com/health/2012/02/10/fda-sets-draft-rules-for-biotech-drug-copies/#ixzz1mGhrlgPQ